La antigua Basílica y el carillón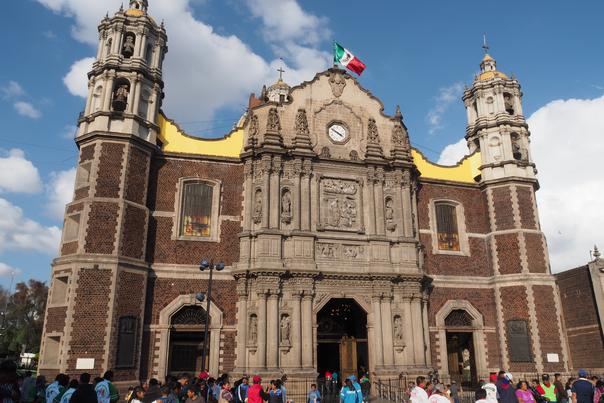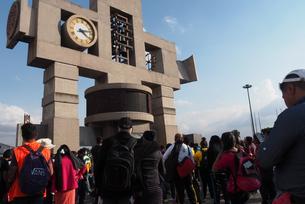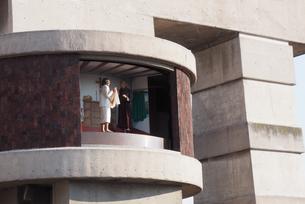 The old Basilica has become too small to house all the pilgrims and a new and very modern one was constructed near by, complete with a moving walkway so that everyone can get to see the relic. A bell rings every half hour to reveal an educational play with figurines that show the story of Juan Diego and the Virgen of Guadalupe over and over again.
Vocabulario al capítulo
Sustantivos
aparición
arcoíris
ayate
carillón
cerro
creencia
diminuitivo
encargo
estrella
flor
misa

obispo
percepción
sacerdote
serpiente
señal
templo
vestido
Verbos
aparecer
arrodillarse
creer
cumplir

curar
destruir >< construir
enriquecer
necesitar
pedir
significar
volver
Adjetivos y otros
enfermo
hermoso
verdadero

Madre Tierra, Tonantzin, Coatlicue o La Virgen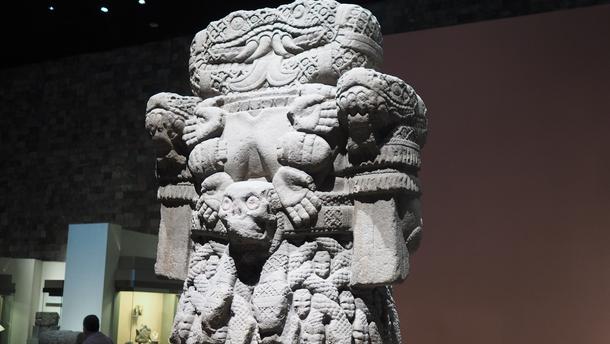 Coatlicue, the Aztec Mother Earth goddess is an ambiguous character that both gives life and destroys.
How much do you remember?
1)
Juan Diego es un sacerdote español
2)
Juan Diego encuentra a la Virgen en el año 1931
3)
El obispo quiere que le traiga una señal para creerle
4)
Juan no vuelve a ver a la Virgen porque su tío está enfermo
5)
El tío de Juan Diego muere
6)
La Virgen le da 3 señales a Juan Diego
7)
En el ayate de Juan Diego aparece la imagen de Jesús
8)
Al final el obispo le cree y construyen un templo en Tepeyac
9)
El Día de Guadalupe se celebra el 12 de diciembre
10)
Vienen mexicanos en peregrinaje de todo el país a La Basílica de Guadalupe
11)
En el Día de Guadalupe se cantan villancicos