Crafts and cultures: Mujeres Artesanas de Oaxaca

Vídeo: Muchos artesanos empezamos a superarnos
Log into your Vimeo account to see the video.
Oaxaca town is the state capital and a lively trade center. In the next 3 videos, María Aurora shows us some of the amazing crafts of the region, which are often linked to local indigenous cultures.
At the same time, tells the story of her own childhood in a family of craftsmen with 14 children and why the women formed the cooperative shop Mujeres Artesanas de las Regiones de Oaxaca, that allows the women to determine the price of their goods themselves.
Vocabulario a los capítulos
Sustantivos
ama de casa f
artesano
asociación f
barro m
calle f
casa f
dinero m
esposo >< esposa
extranjero m
feria f
folleto m
ganancia f
gasto m
hoja de lata f
impuesto m
luz f

madera f
mercancía f
máscara f
piel f
precio m
producto m
productor m
renta f
revendedor
teléfono m
textil m
tienda f
Verbos
ayudar
burlarse de
empezar /ie
enseñar >< aprender

ganar
lograr
meter
pagar
repartir
sostener
unirse
vender >< comprar
Adjetivos y otros
ahorita = por el momento
bajo >< alto adj
barato >< caro
fácil >< difícil
mayor >< menor
profesionista adj
satisfecho
suave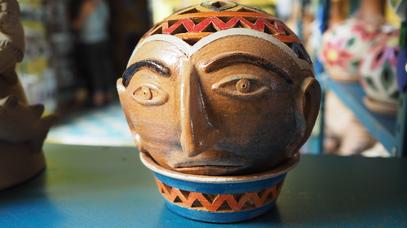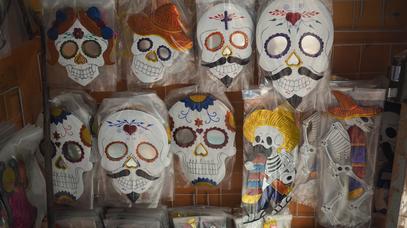 Did you get the words?
3)
¿Cuál de estas palabras NO es un gasto?:
4)
¿Cuál de estas palabras NO es un material?