Huipiles from the regions of Oaxaca – a journey through cultures

Vídeo: Huipiles de las regiones de Oaxaca
Log into your Vimeo account to see the video.
María Aurora shows us huipiles from the different regions of Oaxaca and at the same time gives us a tour of the cultures of the regions.
Learn about how the weaving in a Mixteca huipil also reflects the Mixtecan view on life and death, about what happened when the Beatles met the shaman María Sabina and her magic mushroom ceremonies, let Maria Aurora show you the magnificent details of weavings and embroideries, and see how weddings are celebrated in Oaxaca.
Take the tour!
Vocabulario al capítulo
Sustantivos
algodón m
artesanía f
boda f
capullo m
curandero m
hongo m
lana f
mariposa f
muerte >< vida
muñequito = pequeño muñeco
sacerdotisa = shaman
tejido m

telar de cintura m
Verbos
abrir >< cerrar /ie
bordar
cardar
cosechar
curar
empezar /ie >< terminar
hilar
morir /ue
mostrar /ue
pronosticar
sembrar /ie

significar
tejer
teñir
vestirse
Adjetivos y otros
a gancho
alto >< bajo
a mano
ancho >< estrecho
atrás >< delante
barato >< caro
pobre >< rico

Frida Kahlo, huipiles and traditional dresses from Oaxaca
If you've ever seen the Mexican artist Frida Kahlo and her paintings you may recognize some of the huipiles from Oaxaca. Frida Kahlo had a whole collection of the traditional dresses and wore them daily to pay tribute to the Native Cultures of Mexico. The weaving and embroidery of the dresses still inspires designers from Mexico and the rest of the world.
Among the indigenous groups, the traditional dress, the huipil, is a sign of which group you belong to. At the same time, the beautiful colours, weaving and embroidery is a carrier of tradition, mythology and philosophy of life.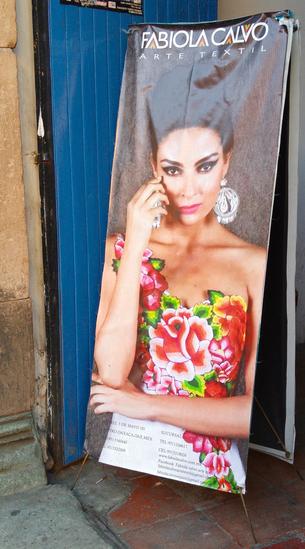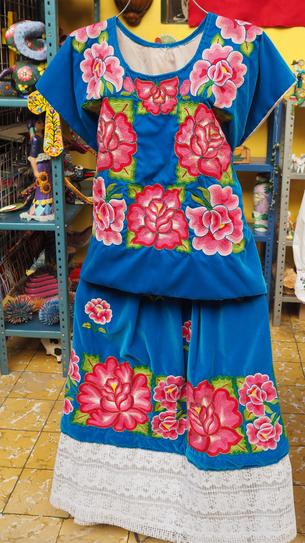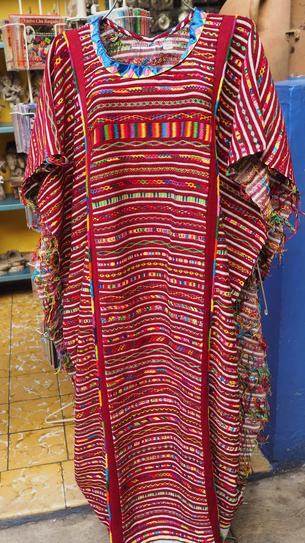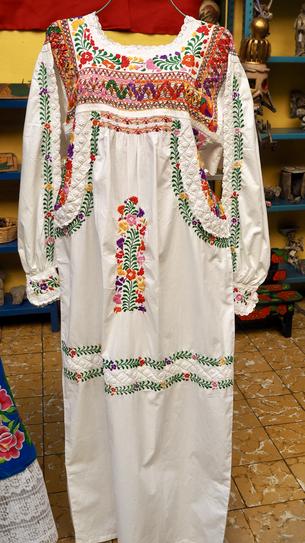 Pronombres demostrativos
Decide qué forma del pronombre demostrativo necesitas en cada frase
1)
....... artesanías las hacen en Oaxaca
3)
....huipil es de la Mixteca Alta
4)
....animalitos bordados son de Santa María Zacatepec
5)
.... figuras son de El Istmo
Más sobre...Frida Kahlo, música y textiles de Oaxaca
Frida Kahlo and her dresses
The Mexican artist Frida Kahlo (1907-1954) was also known for dressing in beautiful Mexican huipiles.
Take a virtual tour of Frida Kahlo's houseLa casa azul in La Ciudad de México, or see her collection of dresses that has been on display at the museum since 2012 Los vestidos de Frida Kahlo.
The song they play in the wedding procession in the video is a traditional Zapoteca song called Nanga ti feo. In this video you can hear it sung by the famous Mexican singer Lila Downs who herself, by the way, is known for wearing clothes from designers who work with Mexico's beautiful fabrics.
Did you know?
Lila Downs also appears in the film about Frida Kahlo's life, Frida (Julie Taymor 2002), where she plays the singer Chavela Vargas, who met Frida in her youth (see also the chapter on mariachis at Plaza Garibaldi)
More about Lila Downs: See her official website.
Moda consentido
See a number of Mexican women display their favorite clothing from Mexico's many regions
Entre homenaje y exploitación
While some designers are inspired by the original designs and others collaborate with local artisans, there are clear examples of pure exploitation. A quite grotesque one was the French company who went as far as to claim a patent on the Mixe designs, which meant that the artisans would have to pay them to use their own embroidery designs.